Two dozen cupcakes is a lot of cupcakes!!! As you may remember I won the random drawing for doing the
Cupcake marathon
. These were sent to me Fed-Ex from the
Sugared Bakery
They arrived just as I was about to leave for work so I quickly opened them and took a dozen with me. Yes a cupcake for breakfast. I consumed far, far to many cupcakes over the next 2 days. They were wonderful! The frosting was so fudgy good you can not imagine they were also had a raspberry filling...oh yea...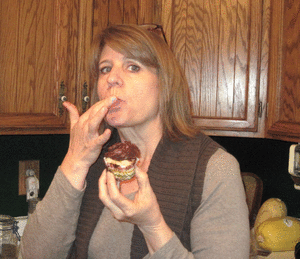 Can I just say that I'm really glad the
Jelly Bean
virtual race does not have any food prizes, nor does it require me to consume jelly beans, although I'm guessing they will be consumed.
Training and goal update
1. Swim! Get to the pool at least 2 times.
Went Monday am going tomorrow and may try Saturday too for a longer swim.
2. Track food better this week.
I've tracked all food 3 out of 4 days so far. In Fact the 4th day I tracked most of the food just not all of. Now this doesn't mean I ate that great or stayed within calorie range just that I tracked it and can't say.."I was good this week how come I didn't lose any weight?"
Workouts have been ok a little shorter then I would have hoped on some but getting them in. A really nice run this morning. Just felt strong and it seemed easy always a real plus!